Exploring Italy's Coastal Paradises: From Amalfi to the Italian Riviera
Exploring Italy's Coastal Paradises: From Amalfi to the Italian Riviera
Italy's coastline is a tapestry of breathtaking beauty, where azure waters caress rugged cliffs and charming villages cling to the hillsides. From the glamorous Amalfi Coast to the picturesque Italian Riviera, these coastal paradises offer a symphony of natural splendor and Mediterranean charm. Join us as we embark on a journey through some of Italy's most enchanting coastal destinations, where every vista is a postcard-worthy memory waiting to be made.
1. Amalfi Coast: The Jewel of Southern Italy
Amalfi Coast – Where Beauty Knows No Bounds: The Amalfi Coast is a dreamscape of pastel-hued villages cascading down the cliffs, with every turn of the road revealing a new, awe-inspiring view.
Positano: Explore the winding streets of this iconic town, lined with vibrant bougainvillaea-clad houses. Relax on Spiaggia Grande, the main beach, and savor the flavors of local cuisine.

Ravello: Perched high above the coast, Ravello offers panoramic views of the Mediterranean. Visit the historic Villa Rufolo and its stunning gardens.

Capri: Take a boat trip to the glamorous island of Capri, known for its chic boutiques, the mesmerizing Blue Grotto, and the Faraglioni rock formations.
Travel Tip: Rent a scooter or take a boat tour for a unique perspective of the coast.
2. Cinque Terre: The Colorful Quintet of Charm
Cinque Terre – A Cinematic Marvel: Comprising five enchanting villages, Cinque Terre is a UNESCO World Heritage site, renowned for its colorful houses and stunning coastal trails.
Vernazza: Wander through the narrow streets of Vernazza, leading to a charming harbor where fishermen's boats sway gently in the breeze.

Manarola: Known for its picturesque vineyards and spectacular sunset views, Manarola is a photographer's delight.

Hiking the Sentiero Azzurro: Embark on the famous Blue Trail, a coastal path that winds its way through vineyards and provides breathtaking vistas.
Travel Tip: Purchase a Cinque Terre Card for access to hiking trails and use of local transportation.
3. Italian Riviera: Where Elegance Meets Tranquility
Italian Riviera – A Tapestry of Elegance: The Italian Riviera, stretching from the French border to Tuscany, exudes an air of sophistication amidst serene coastal towns.
Portofino: A playground for the jet set, Portofino boasts a picturesque harbor, upscale boutiques, and the historic Castello Brown.

Santa Margherita Ligure: Wander along the palm-lined promenade, visit the ornate Basilica di Santa Margherita, and soak in the Riviera's timeless charm.

San Fruttuoso: Accessible only by boat or on foot, this secluded cove is home to the Abbey of San Fruttuoso, a tranquil retreat steeped in history.
Travel Tip: Take a boat tour along the coastline for a chance to discover hidden coves and sea caves.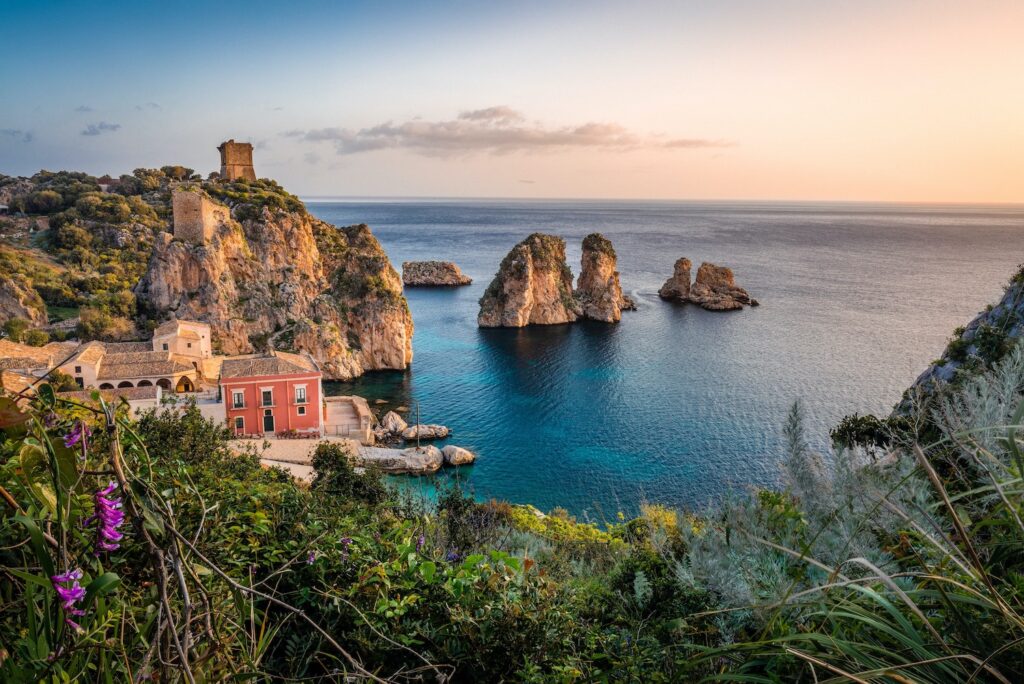 The coastal paradises of Italy are an invitation to savor life's simplest pleasures amidst some of the world's most stunning scenery. Whether you're gazing at the colorful houses of Cinque Terre, exploring the glamorous harbor of Portofino, or basking in the charm of Positano, each moment is a testament to the Mediterranean's timeless allure. Join us on a journey along these coastlines, and let the beauty of Italy's coastal paradises etch itself into your heart forever. Your coastal adventure awaits!
Thanks for checking out Juniper Tours' Travel blog! We hope you enjoyed your read and if you're looking for more content please check out our other blog posts! If you're looking for help planning your next travel adventure then book a FREE travel consultation with one of our Travel Specialists today!​
Schedule a Free Travel consultation today!​