Ireland Pub Culture History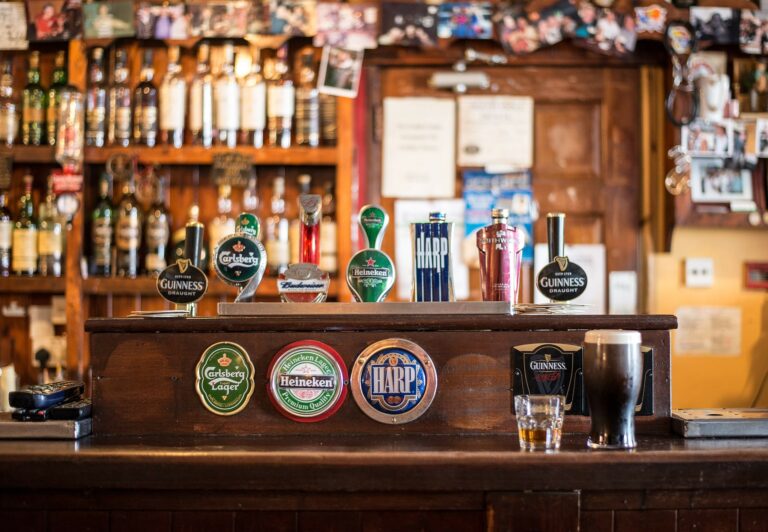 Known to its citizens as 'the local', Irish pubs have become well-known for their fun, relaxed, welcoming environment. But, that did not come to be by accident. The origin of Ireland's pub culture dates as far back as the sixth century with Brehon Law. The ancient law required local pub owners to welcome guests at all hours, day or night. This rule was mostly put in place to serve the King as he traveled through the villages. It also allowed anyone traveling through the area to seek hospitable services if not local within a four-mile radius. However, the decree ended up creating a social hub within Ireland's communities with pubs becoming a place for friends, family and neighbors to gather, tell stories, sing songs, enjoy a pint and celebrate milestones. A tradition that lingers on today.
Create your own a pub road trip
Why not plan a pub tour on a self-drive tour of Ireland? There are several ancient pubs located throughout the country so consider adding a stop or two along the way. Although many claims to be the "oldest pub in Ireland", the Guinness Book of World Records has officially named a winner. Still, each ancient Irish pub has its own history and stories to tell. From smugglers and pirates to charges of witchcraft and sorcery, these pubs have made their mark in Ireland's history. As you journey through the beautiful countryside, add the adventure of discovery through part of Ireland's history. Below is a list of the oldest noted locations to help start your planning.
Pubs worth a visit:
Sean's Bar 
– The most well-known historic pub is Sean's Bar. Located in Athlone, County Westmeath, Sean's Bar dates back to 900AD and has seen many owners throughout the years, including 1980's Culture Club singer, Boy George. It has officially been listed in the Guinness Book of Records as the oldest pub in Ireland (and possibly the world).
The Brazen Head
 – The second most well-known ancient pub is The Brazen Head. Located in Dublin, The Brazen Head dates back to 1198. The current building was an inn built in 1754 and has had many famous Irish writers pass through it. The pub is even referenced in James Joyce's 1920's novel Ulysses.
Kyteler's Inn 
– The notorious Dame Alice le Kyteler established Kyteler Inn back in 1324. After her fourth husband Sir. John de Poer died, his relatives became enraged upon realizing he'd left his fortune to her. Their rage turned into charges of witchcraft and sorcery. Charges not only towards Alice but also her son, friends, and servants. Alice escaped to England but what happened to those left behind? There is much more to the saga so you will definitely want to include a tour stop at Kyteler's. It will not disappoint.
Grace Neills 
– Located in Donaghadee, County Down, Grace Neills was established in 1611.  It was formerly known as The Kings Arms for over 400 years. However, today it is named after Grace Neill, a strong-spirited woman who was gifted the pub by her father as a wedding gift. She would smoke a clay pipe and offer a friendly hug and kiss on the cheek as a greeting to customers. Throughout its existence, the bar has been visited by smugglers, pirates, sailors, and soldiers.
Morahan's Bar 
– Known to have been in the same family since 1641, Morahan's Bar in Ballinagare, County Roscommon, is one of the oldest family-run businesses in Ireland today.
The Old Thatch 
– The Old Thatch is the oldest thatched pub in Ireland. It has also been in the same family since 1667. The Old Thatch can be found in Killeagh, County Cork.
Johnny Fox's Pub 
– Just a 30-minute drive outside of Dublin, Johnny Fox's Pub was established in 1798. With the bar's location being in the Dublin Mountains, it is also known as Ireland's highest pub. That may be why many celebrities, royalty, and politicians have made a trip to the famous pub.
In conclusion, Irish pub culture is known for their relaxed, welcoming environment and have a history to back up that claim. If you're interested in adding any of these pubs to your tour or would like more information about a self-drive tour Ireland tour package for you and your travel party, please fill out our Request a Quote form.  Our Destination Specialists are standing by and would be thrilled to help you plan the perfect adventure to the Emerald Isle.
If you are ready to explore you can contact the destination specialist here or give us a call too. 877-774-3256
Explore our Travel to Ireland Programs