Experience the Magic of the Top 5 Famous UK Holidays
Experience the Magic of the Top 5 Famous UK Holidays
As the year comes to a close, the United Kingdom transforms into a wonderland of festive celebrations and joyous traditions. From the warmth of Christmas to the vibrant festivities of New Year's Eve, the UK offers a delightful array of famous holidays that capture the hearts of both locals and visitors. Let's explore the top five iconic UK holidays and immerse ourselves in their enchanting spirit.
Christmas: (December 25th)
Christmas in the UK is a magical time when the country radiates with festive cheer. Streets twinkle with dazzling lights and decorations, while Christmas markets come alive with the scent of mulled wine and the sounds of laughter. Families gather to exchange gifts, enjoy special meals, and share cherished moments. Churches hold midnight services, and carolers fill the air with beautiful melodies. The joyous atmosphere is infectious, making it a truly enchanting time to be in the UK.
Easter: (Date Varies)
Easter is a significant Christian holiday celebrated with great enthusiasm throughout the UK. It symbolizes new beginnings and hope, and the festivities are marked by various traditions. Children eagerly participate in delightful Easter egg hunts, searching for chocolate treasures hidden in gardens or parks. Towns and villages come alive with colorful parades and processions featuring floats and costumes. It's also a time to savor traditional treats like hot cross buns and simnel cakes, adding a delicious touch to the celebrations.
Bonfire Night (Guy Fawkes Night): (November 5th)
On the evening of November 5th, the UK bursts into a dazzling display of lights and fireworks to commemorate Bonfire Night, also known as Guy Fawkes Night. This historic event pays homage to the failed Gunpowder Plot of 1605. Crowds gather around crackling bonfires, their warmth providing a cozy backdrop for the breathtaking firework shows. The sky illuminates with cascades of colors, while effigies known as "guys" are set ablaze. Toffee apples and bonfire toffee add sweetness to the night, as families and friends come together to revel in this age-old tradition.
St. Patrick's Day: (March 17th)
Although St. Patrick's Day is primarily associated with Ireland, its vibrant celebrations spill over into the UK, captivating cities such as London, Manchester, and Birmingham. On March 17th, streets burst with a sea of green as people dress up and don shamrock symbols. Parades and street festivals showcase traditional Irish music, lively dancing, and cultural performances. The infectious spirit of St. Patrick's Day sweeps through the UK, offering a taste of Ireland's rich heritage and creating an atmosphere of joy and camaraderie.
New Year's Eve (Hogmanay): (December 31st)
As the clock strikes midnight on December 31st, the UK welcomes the new year with unparalleled excitement and revelry. Nowhere is this more evident than in Scotland, where Edinburgh's Hogmanay Festival sets the stage for an unforgettable experience. The city comes alive with a torchlight procession, enchanting street parties, and electrifying concerts. The grand finale is a breathtaking fireworks display over the iconic Edinburgh Castle, painting the night sky with brilliant colors. Across the UK, people gather with loved ones, attend lively parties, and join in the countdown, bidding farewell to the old year and welcoming the new one with open arms.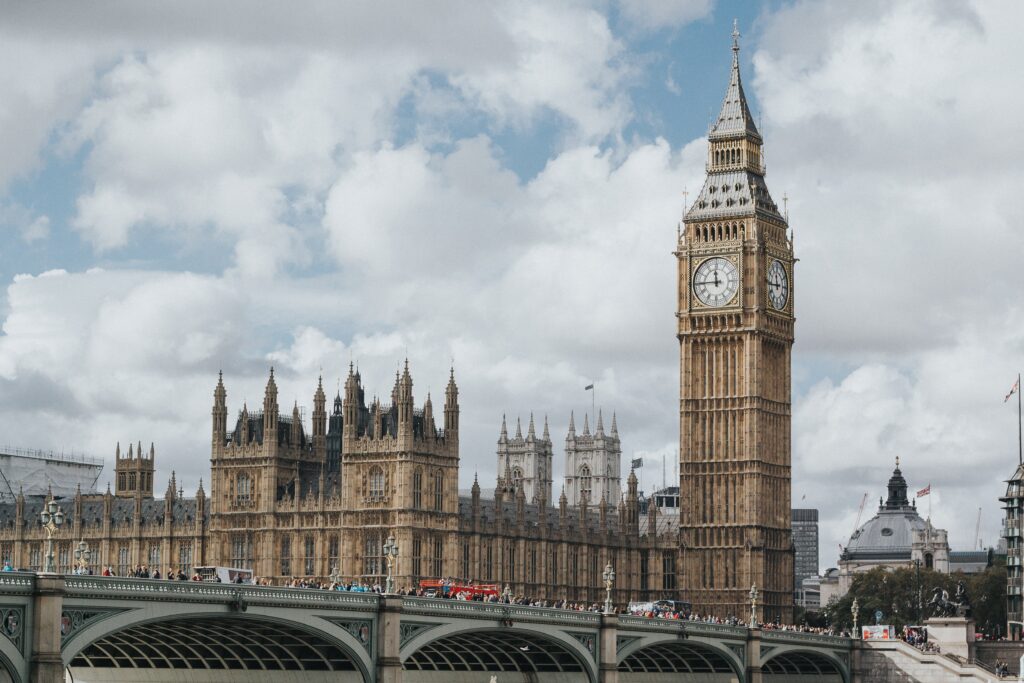 These top five famous holidays in the UK capture the essence of celebration, tradition, and togetherness. Whether you find yourself immersed in the festive charm of Christmas, marveling at dazzling fireworks on Bonfire Night, or joining the spirited revelry of St. Patrick's Day and Hogmanay, each holiday offers a unique experience that will leave you with cherished memories. Embrace the magic of these celebrated occasions and immerse yourself in the captivating spirit of the United Kingdom.
Thanks for checking out Juniper Tours' Travel blog! We hope you enjoyed your read and if you're looking for more content please check out our other blog posts! If you're looking for help planning your next travel adventure then book a FREE travel consultation with one of our Travel Specialists today!​
Schedule a Free Travel consultation today!​