Enchanting Escapes: Ireland Castle Vacation Packages
Ireland Castle Vacation Packages
Embrace the allure of a bygone era with our exclusive Ireland Castle Vacation Packages. Nestled amidst the lush green landscapes and steeped in centuries of history, Ireland's castles offer an extraordinary opportunity to step into a fairy tale world. With our carefully curated packages, you'll not only be a guest, but a cherished part of the castle's storied past.
Unveiling the Magic: Ireland's Castle Retreats
1. Ballynahinch Castle, Connemara
Wild Atlantic Way
Experience Timeless Elegance
Nestled in the heart of Connemara, Ballynahinch Castle exudes timeless elegance. Set against the backdrop of the Twelve Bens Mountain Range, this 17th-century castle boasts stunning views of its private estate and the wild Atlantic coastline. Explore the rugged beauty of Connemara during the day and retire to your luxurious castle suite at night.
2. Dromoland Castle, County Clare
The Shannon Region
Live Like Royalty
Dromoland Castle, a 16th-century masterpiece, invites you to live like royalty. Surrounded by acres of lush gardens and a sparkling lake, this castle showcases opulent interiors, gourmet dining, and a championship golf course. Discover the magic of County Clare with guided tours, falconry experiences, and leisurely strolls through the immaculate grounds.
3. Ashford Castle, County Mayo
Romantic Hideaway
Where Fairy Tales Come to Life
Ashford Castle, a 13th-century gem on the shores of Lough Corrib, is the epitome of romantic indulgence. With its ivy-clad walls, regal suites, and award-winning cuisine, it's no wonder this castle has enchanted guests for centuries. From archery and fishing to spa treatments and lake cruises, Ashford Castle offers a multitude of activities to choose from.
4. Waterford Castle, County Waterford
Ireland's Ancient East
An Island Sanctuary
Situated on a private island in the River Suir, Waterford Castle exudes a sense of seclusion and tranquility. Accessible only by a private ferry, this 16th-century castle offers a unique retreat where history, luxury, and nature converge. Explore the historic city of Waterford and return to your island sanctuary for a night of refined comfort.
5. Dunboyne Castle Hotel & Spa, County Meath
Historic Meath
A Fusion of Old and New
Dunboyne Castle seamlessly blends historic charm with modern luxury. This 18th-century estate, nestled in the heart of County Meath, boasts beautifully preserved architecture and a state-of-the-art spa. Explore the rich history of the Boyne Valley or simply unwind in the opulent surroundings of the castle.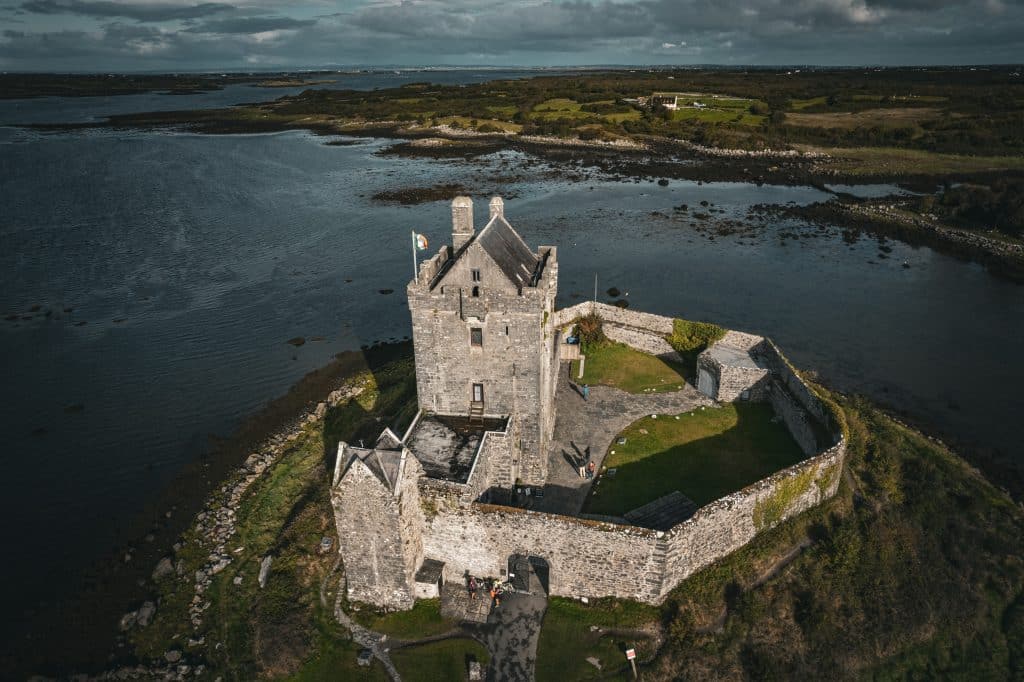 Our Ireland Castle Vacation Packages offer more than just a place to rest your head. They provide an immersive journey into Ireland's rich heritage, allowing you to create memories that will last a lifetime. Whether you're a history enthusiast, a romantic soul, or simply seeking a getaway unlike any other, our castle packages promise an enchanting escape.
Indulge in the magic of Ireland's castles and let the centuries of history whisper their tales as you explore these regal retreats. Book your castle vacation package today and embark on an extraordinary adventure in the heart of the Emerald Isle.
Thanks for checking out Juniper Tours' Travel blog! We hope you enjoyed your read and if you're looking for more content please check out our other blog posts! If you're looking for help planning your next travel adventure then book a FREE travel consultation with one of our Travel Specialists today!​
Schedule a Free Travel consultation today!​