Embark on a Majestic Journey: The Irish Castle Tour Experience
Embark on a Majestic Journey: The Irish Castle Tour Experience
In the emerald landscapes of Ireland lies a treasure trove of history, grandeur, and tales of ancient nobility—the majestic castles. Embarking on an Irish Castle Tour is a journey back in time, where centuries-old fortresses stand proudly, each with its own unique stories and architectural splendor. Join us as we unveil the enchantment of these magnificent structures that epitomize Ireland's rich heritage.
Dublin Castle – A Historic Gem in the Capital
Begin your castle expedition in the heart of Dublin with Dublin Castle, an emblem of Ireland's history and a testament to its resilience. Initially a medieval fortress, it has transformed over the centuries into an elegant architectural masterpiece. Explore its opulent State Apartments, the Throne Room, and the beautiful Dubh Linn Gardens, delving into centuries of Irish history and royal lineage.
Blarney Castle – Where Legends Await
Journey southwest to County Cork to discover the legendary Blarney Castle. This iconic fortress is home to the renowned Blarney Stone, believed to bestow the "gift of eloquence" upon those who kiss it. Ascend the castle's battlements, kiss the stone, and soak in the stunning views of the surrounding lush gardens and landscapes.
Ashford Castle – A Regal Retreat
Nestled in the picturesque Connemara region, Ashford Castle stands as a symbol of luxury and opulence. This 13th-century castle turned five-star hotel offers a regal experience amidst breathtaking scenery. Enjoy the lavish interiors, partake in outdoor activities like falconry or archery, and indulge in world-class dining for an unforgettable royal experience.
Dromoland Castle – Elegance and Grandeur
Located in County Clare, Dromoland Castle is steeped in aristocratic heritage. With its splendidly preserved interiors, magnificent grounds, and a championship golf course, this castle epitomizes elegance and grandeur. Immerse yourself in the tranquil surroundings and savor the luxury that once belonged to the noble families of Ireland.
Bunratty Castle – A Step into Medieval Times
Your Irish Castle Tour wouldn't be complete without a visit to Bunratty Castle and Folk Park in County Clare. Step back in time as you explore the 15th-century castle, adorned with period furnishings and medieval tapestries. Wander through the adjacent folk park, a living museum showcasing Ireland's rural life in the 19th century.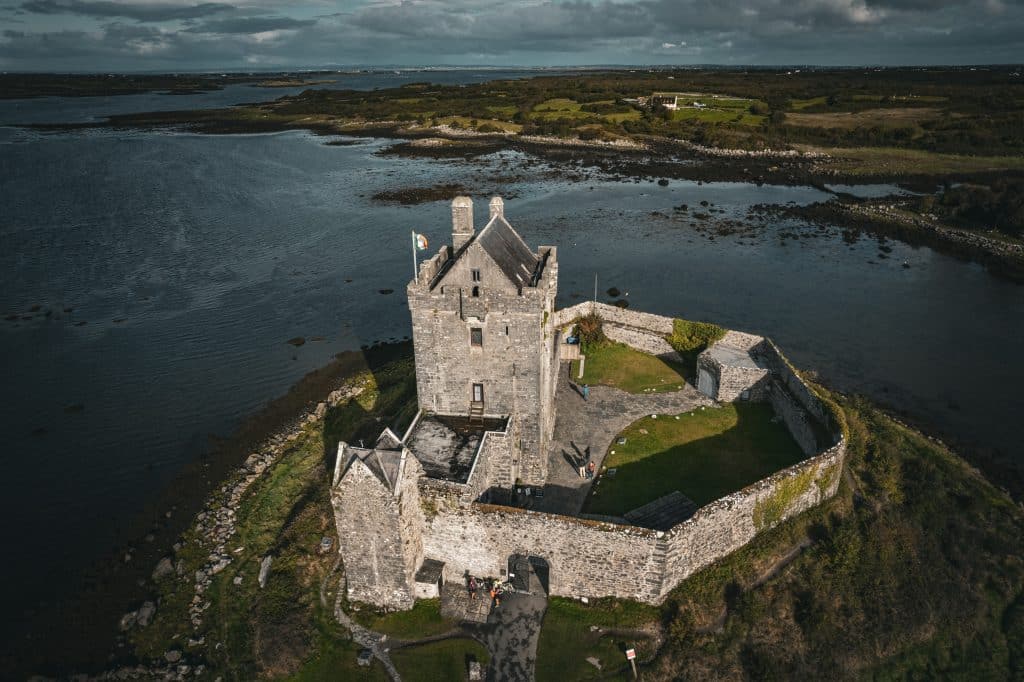 At Juniper Tours, we specialize in curating unforgettable Irish Castle Tours that immerse you in the splendor and history of these majestic landmarks. Whether you desire a luxurious stay in a castle-turned-hotel or a guided tour through Ireland's ancient fortresses, let us craft an itinerary that brings your castle dreams to life.
Unveil the romance, history, and grandeur of Ireland's legendary castles with us. Contact us today and embark on an unforgettable journey through Ireland's regal past.
Thanks for checking out Juniper Tours' Travel blog! We hope you enjoyed your read and if you're looking for more content please check out our other blog posts! If you're looking for help planning your next travel adventure then book a FREE travel consultation with one of our Travel Specialists today!​
Schedule a Free Travel consultation today!​