Indulge in French Cuisine: Top 5 Michelin Star Restaurants in Paris
Top 5 Michelin Star Restaurants in Paris
French cuisine is celebrated worldwide for its exquisite flavors, attention to detail, and the use of fresh, high-quality ingredients. When it comes to finding the best French food, Paris is the city that immediately comes to mind. The French capital is a paradise for food lovers, with numerous Michelin-starred restaurants that offer a culinary experience like no other. In this blog post, we will explore the top 5 Michelin star restaurants in Paris, each one unique in its own way, and sure to impress even the most discerning of food connoisseurs. Get ready to indulge in some of the best French cuisine you'll ever taste!
1. Alléno Paris au Pavillon Ledoyen
Alléno Paris au Pavillon Ledoyen is a three-star Michelin restaurant that is known for its exquisite and innovative French cuisine. Located in a historic pavilion in the heart of Paris, the restaurant has a rich history that dates back to the 18th century. The restaurant's head chef, Yannick Alléno, is renowned for his innovative approach to French cuisine, which combines traditional cooking techniques with modern ingredients and flavors. Some of the signature dishes at Alléno Paris au Pavillon Ledoyen include the duck foie gras with smoked eel and Granny Smith apples, and the pigeon roasted with honey and spices. The restaurant also has an extensive wine list that features some of the best wines from France and around the world.
2. Epicure
Epicure, located in the prestigious Le Bristol Paris hotel, is a three-star Michelin restaurant that offers a unique and unforgettable dining experience. The restaurant's decor is elegant and luxurious, with crystal chandeliers and beautiful floral arrangements. The menu features classic French dishes made with fresh and high-quality ingredients, such as roasted pigeon with black truffle and wild seabass with artichokes and olives. The wine list is extensive and includes many rare and vintage bottles. Epicure's service is attentive and professional, adding to the overall ambiance and enjoyment of the dining experience.
3. Arpège
Arpège is a three-star Michelin restaurant situated in the 7th arrondissement of Paris, that showcases an innovative approach to French cuisine. The restaurant has an emphasis on locally-sourced ingredients and vegetarian options, making it unique compared to other Michelin-starred restaurants. Chef Alain Passard creates an ever-changing menu with dishes that are inspired by seasonal ingredients. Guests can expect to indulge in dishes like beetroot tartare with horseradish and potato, and a selection of fresh vegetables served with delicious sauces. Arpège's menu and approach to cuisine have made it a popular destination for foodies looking to experience a new and exciting culinary journey.
4. L'Ambroisie
L'Ambroisie is a three-star Michelin restaurant that serves classic French cuisine in an intimate and luxurious setting on the Île Saint-Louis. The restaurant is located in a 17th-century townhouse and features elegant décor and antique furnishings, creating a romantic and sophisticated atmosphere. The menu features classic French dishes such as foie gras, lobster, and truffles, with an emphasis on seasonal and local ingredients. The dining experience at L'Ambroisie is known for its attentive service and exquisite attention to detail, making it a must-visit destination for food lovers and romantic couples alike.
5. Le Jules Verne
Le Jules Verne is a one-star Michelin restaurant located on the second floor of the Eiffel Tower, offering stunning panoramic views of the city. The restaurant boasts a unique dining experience with its contemporary interior design and a menu that combines French cuisine with international flavors. Guests can indulge in dishes such as pan-seared scallops with coconut and passion fruit, and roasted veal fillet with smoked eggplant and miso. The restaurant is known for its exceptional wine selection, featuring over 1,200 labels to pair perfectly with each dish. A reservation at Le Jules Verne is not only an indulgence in fine dining but also an opportunity to experience one of Paris's most iconic landmarks.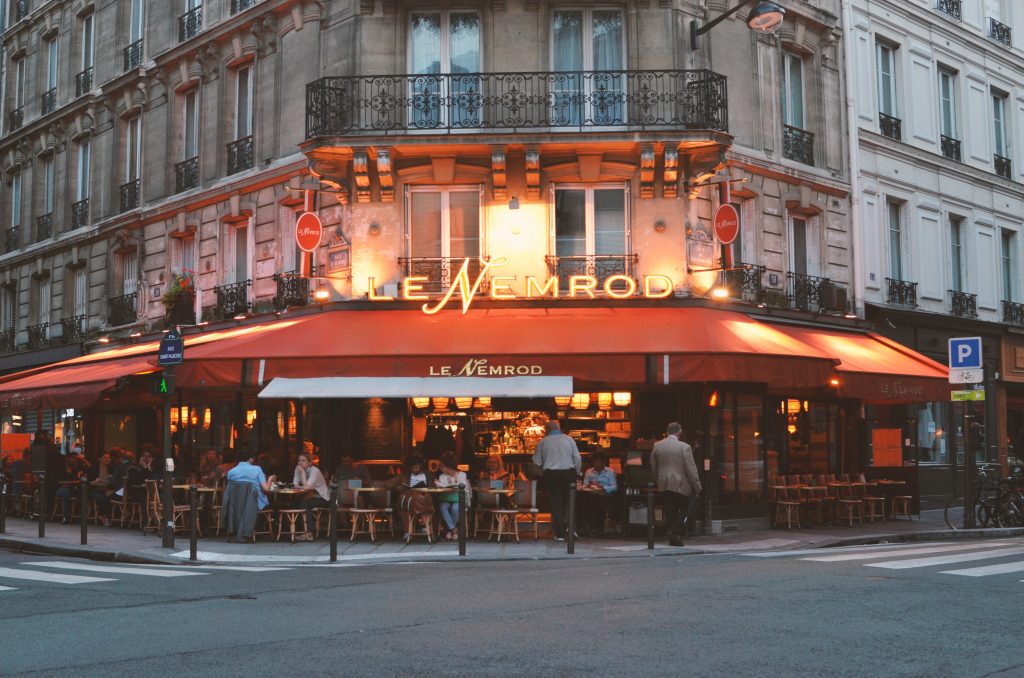 In conclusion, Paris is a city renowned for its exquisite cuisine, and these top 5 Michelin star restaurants are the cream of the crop. From the innovative and locally-sourced dishes at Arpège to the classic French cuisine at L'Ambroisie, there is something for every taste. And for those looking for a dining experience with a view, Le Jules Verne offers panoramic views of the city from the iconic Eiffel Tower. Whether you're a foodie or simply looking for a special night out, dining at one of these restaurants is an experience not to be missed during a trip to Paris.
Thanks for checking out Juniper Tours' Travel blog! We hope you enjoyed your read and if you're looking for more content please check out our other blog posts! If you're looking for help planning your next travel adventure then book a FREE travel consultation with one of our Travel Specialists today!​
Schedule a Free Travel consultation today!​