The Ultimate Guide: Best Time to Travel to Santorini
Best Time to Travel to Santorini
Santorini, with its breathtaking sunsets, crystal-clear waters, and charming whitewashed buildings, is a dream destination for many travelers. Choosing the right time to visit this Greek paradise can greatly enhance your experience. In this guide, we'll explore the different seasons in Santorini and help you decide when the best time to visit this enchanting island is based on your preferences.
Spring:
Spring in Santorini is a magical time when the island blooms with vibrant colors. The temperatures start to rise, and you can expect pleasant, mild weather. The island is in full bloom, making it perfect for nature lovers and photographers. Exploring the ancient ruins of Akrotiri, hiking the scenic trails along the caldera cliffs, and wine tasting tours in the vineyards are just a few of the delightful activities you can enjoy during this season.
One of the significant advantages of visiting Santorini in spring is the fewer crowds. It's considered an off-peak season, allowing you to enjoy a quieter, more relaxed atmosphere. Additionally, this time of year tends to be more budget-friendly. Accommodation and activities are generally more affordable compared to the peak summer months.
Summer:
Summer is Santorini's peak tourist season, and for good reason. The weather is hot and dry, with temperatures ranging from 25°C (77°F) to 30°C (86°F). The warm waters of the Aegean Sea are perfect for swimming, snorkeling, and water sports. Santorini comes alive at night with beach parties, live music, and bustling bars and clubs. Witnessing the famous Santorini sunsets from Oia is a must-do experience.
However, it's important to note that popular spots like Oia and Fira can get quite crowded, especially during sunset hours. Accommodation and activities may be pricier, and availability can be limited without advance booking.
Autumn:
Autumn is a fantastic time to visit Santorini as the weather remains warm and pleasant, with temperatures ranging from 20°C (68°F) to 25°C (77°F). The vineyards and olive groves are bustling with activity, offering unique experiences like grape stomping and olive picking. This season provides a quieter atmosphere as summer comes to an end, making it an ideal destination for couples seeking a romantic getaway.
Savoring local delicacies at traditional tavernas and exploring charming villages like Pyrgos and Megalochori are some of the delightful activities you can indulge in during autumn.
Winter:
Winter is the quietest season in Santorini, with cooler temperatures ranging from 10°C (50°F) to 15°C (59°F). This is a time of tranquility, offering visitors the opportunity to experience the serenity of Santorini with fewer tourists around. You can also connect with locals and get a glimpse of daily life on the island, providing a more authentic experience.
However, it's worth noting that some restaurants, shops, and attractions may have reduced hours or be closed during this time. It's advisable to pack warm clothing for the evenings, although the weather is not freezing.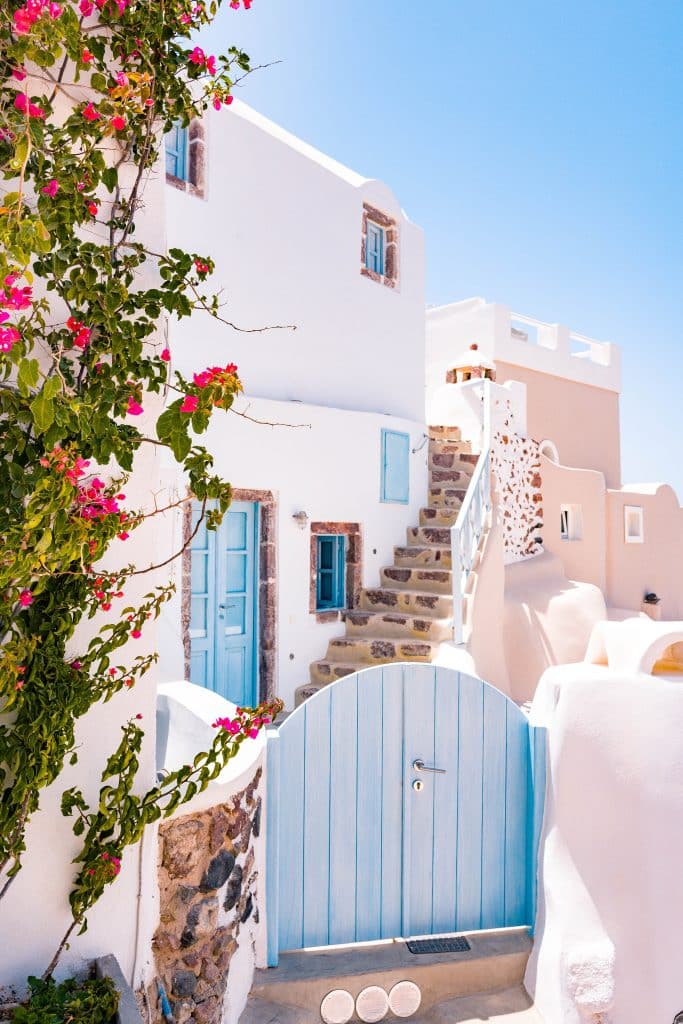 Choosing the best time to visit Santorini ultimately depends on your preferences and what kind of experience you're seeking. Whether you prefer the lively atmosphere of summer, the tranquility of winter, or the blooming landscapes of spring, Santorini offers something magical in every season. So, start planning your dream getaway and get ready to create memories that will last a lifetime!
Thanks for checking out Juniper Tours' Travel blog! We hope you enjoyed your read and if you're looking for more content please check out our other blog posts! If you're looking for help planning your next travel adventure then book a FREE travel consultation with one of our Travel Specialists today!​
Schedule a Free Travel consultation today!​