The Jacobite: A Steam Train in Scotland, is Famously Featured in Which Movie Series?
The Jacobite: A Steam Train in Scotland, is Famously Featured in Which Movie Series?
Scotland, with its misty moors, ancient castles, and breathtaking landscapes, has been the backdrop for countless cinematic masterpieces. One iconic feature that has captured the imagination of movie-goers and travel enthusiasts alike is the Jacobite steam train. This majestic locomotive, known for its scenic routes through the Scottish Highlands, has played a starring role in one of the most beloved movie series of all time. In this blog post, we'll unveil the cinematic connection that has made the Jacobite a must-visit destination for film buffs and adventurers alike.
The Jacobite Steam Train: A Journey through Time and Beauty:
The Jacobite steam train is not merely a mode of transportation; it's a journey through history and natural splendor. Departing from Fort William, this vintage locomotive takes passengers on a spectacular ride through some of Scotland's most awe-inspiring landscapes. From the towering peaks of Ben Nevis to the picturesque shores of Loch Shiel, every twist and turn reveals a new facet of Scotland's unparalleled beauty.
As the steam billows and the wheels turn, passengers are transported not only across the rugged terrain but also through time, evoking a sense of nostalgia for the golden age of rail travel. It's an experience that resonates with the romanticism of travel, allowing you to witness Scotland's majesty from a unique perspective.
A Star-Studded Connection:
What sets the Jacobite apart from other scenic train rides is its prominent role in one of the most cherished movie series in cinematic history – Harry Potter. The train was featured in the films as the Hogwarts Express, the magical locomotive that transports young witches and wizards to the Hogwarts School of Witchcraft and Wizardry.
As the train crosses the Glenfinnan Viaduct, a marvel of Victorian engineering, it's not hard to imagine Harry, Ron, Hermione, and the rest of the gang gazing out of the windows, en route to a world of magic and adventure. This iconic scene has forever etched the Jacobite into the hearts of Potterheads around the world.
Planning Your Jacobite Adventure:
If you're eager to embark on this magical journey, it's important to plan ahead. The Jacobite operates seasonally, typically from April to October, and tickets tend to sell out quickly. Booking in advance is highly recommended to secure your spot on this enchanting ride.
While on board, be sure to bring your camera to capture the breathtaking vistas, and keep an eye out for familiar scenes from the Harry Potter films. Whether you're a die-hard Potterhead or simply a lover of scenic beauty, the Jacobite steam train promises an unforgettable experience.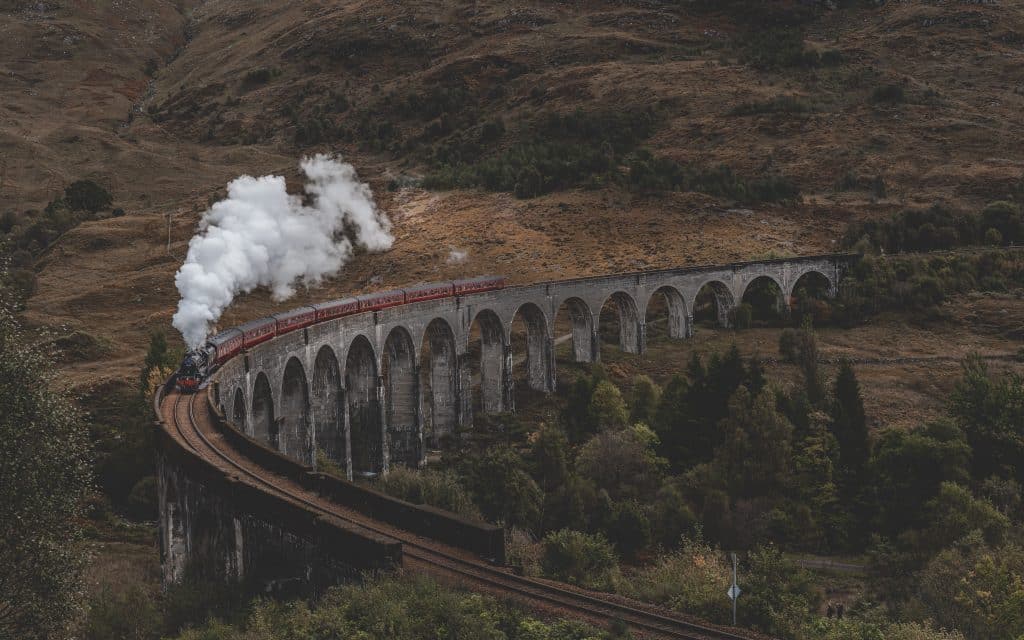 The Jacobite steam train in Scotland isn't just a mode of transportation; it's a vessel that transports passengers into a world of magic and natural splendor. Its starring role in the Harry Potter film series has elevated it to legendary status, making it a must-visit destination for fans of both cinema and adventure.
As you embark on this unforgettable journey, you'll find yourself captivated by the rugged beauty of the Scottish Highlands, all while reliving the enchantment of the wizarding world. So, whether you're a Potterhead or simply a lover of breathtaking landscapes, don't miss the chance to ride the Jacobite and experience the magic for yourself.
Thanks for checking out Juniper Tours' Travel blog! We hope you enjoyed your read and if you're looking for more content please check out our other blog posts! If you're looking for help planning your next travel adventure then book a FREE travel consultation with one of our Travel Specialists today!​
Schedule a Free Travel consultation today!​