Top 10 Famous Golf Courses in Ireland
Top 10 Famous Golf Courses in Ireland
When it comes to golf, few places on Earth can match the allure and enchantment of Ireland. The land of rolling hills, dramatic cliffs, and lush greenery has an undeniable charm that has captured the hearts of golfers from around the world. In this travel blog, we'll embark on a journey through the top 10 famous golf courses in Ireland, each offering a unique blend of natural beauty, challenging gameplay, and a warm Irish welcome.
Ballybunion Golf Club: Our journey begins at the revered Ballybunion Golf Club, where the powerful Atlantic Ocean crashes against rugged cliffs, providing a stunning backdrop for a golfing adventure. The Old Course is a masterpiece of design, with its unpredictable winds and undulating fairways posing a thrilling challenge.

Royal County Down Golf Club: Nestled beneath the shadow of the majestic Mourne Mountains, the Royal County Down Golf Club offers a visually stunning and strategically demanding golfing experience. The Championship Links is world-renowned for its ever-changing dunes and breathtaking scenery.

Old Head Golf Links: Perched on a narrow promontory jutting into the sea, the Old Head Golf Links provides golfers with an exhilarating and dramatic round of golf. The course's location offers panoramic views of the coastline, making it a feast for the senses as well as a formidable test of skill.

Lahinch Golf Club: With its charming village setting and two exceptional courses, Lahinch Golf Club is a must-visit for any golfer. The Old Course, carved into the natural terrain, presents a variety of challenges that highlight the beauty of Ireland's west coast.

Tralee Golf Club: Designed by the legendary Arnold Palmer, Tralee Golf Club captures the essence of Irish golf with its stunning coastal vistas, rolling fairways, and challenging holes that will keep you engaged from start to finish.

Portmarnock Golf Club: Just a short drive from Dublin, the Portmarnock Golf Club boasts a rich history and classic links layout. The course's subtle nuances and strategic design make it a true gem for traditionalists and golf enthusiasts alike.

Waterville Golf Links: In the remote southwest of Ireland, the Waterville Golf Links offers an unforgettable golfing experience. The course meanders through dunes and along the coastline, providing golfers with a sense of serenity and a chance to connect with nature.

Royal Portrush Golf Club: As the only course in Ireland to have hosted The Open Championship, Royal Portrush Golf Club holds a special place in the hearts of golf fans. The Dunluce Links offers a blend of challenging holes and breathtaking views of the rugged North Antrim coast.

Druids Glen Golf Resort: Nestled in the picturesque Wicklow Mountains, Druids Glen Golf Resort offers a modern golfing experience with pristine fairways and manicured greens. The course's tranquil setting and meticulously designed layout make it a golfer's paradise.

County Louth Golf Club (Baltray): Rounding off our journey is the County Louth Golf Club, commonly known as Baltray. This hidden gem boasts a classic links course that offers a pure and authentic golfing experience. The stunning views of the Irish Sea and the Cooley Mountains make it a fitting conclusion to our exploration.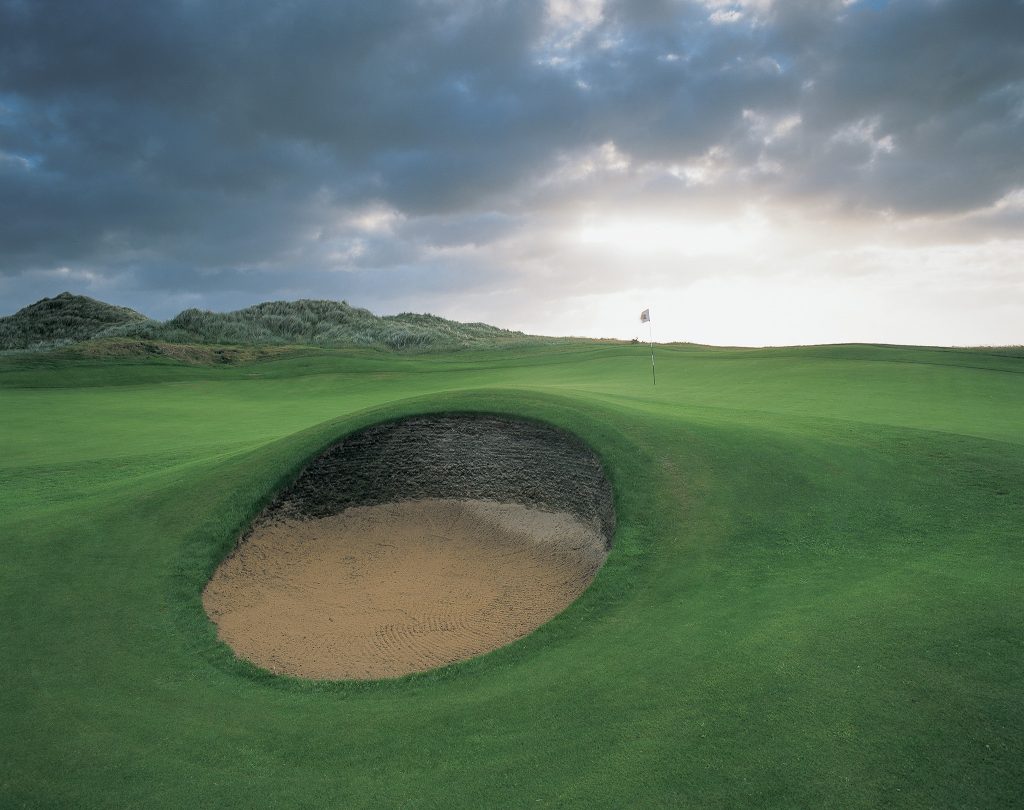 From the wild beauty of Ballybunion to the historic charm of Royal Portrush, Ireland's top 10 famous golf courses offer an unparalleled blend of natural wonder and golfing prowess. Whether you're a seasoned pro or a casual player, these courses provide an unforgettable journey through the heart and soul of the Emerald Isle, where golf is more than just a sport – it's a way of life. So, pack your clubs and embark on an Irish golfing adventure like no other! Sláinte!
Thanks for checking out Juniper Tours' Travel blog! We hope you enjoyed your read and if you're looking for more content please check out our other blog posts! If you're looking for help planning your next travel adventure then book a FREE travel consultation with one of our Travel Specialists today!​
Schedule a Free Travel consultation today!​