Castles and Lochs: Exploring Scotland's Historic Landmarks
Castles and Lochs: Exploring Scotland's Historic Landmarks
Scotland, a land steeped in history and mystique, is adorned with ancient castles and tranquil lochs that tell tales of centuries gone by. From the rugged Highlands to the serene Lowlands, every corner of this enchanting country holds a piece of its rich heritage. Join us on a journey through Scotland's historic landmarks, where the echoes of the past resonate through time.
Edinburgh Castle: The Crown Jewel of Scotland
Perched majestically atop Castle Rock, Edinburgh Castle is an icon of Scotland's capital. Its towering walls have witnessed centuries of history, from royal ceremonies to military sieges. Explore the crown jewels, stroll through the historic Great Hall, and take in panoramic views of the city.
Stirling Castle: The Key to the Kingdom
Stirling Castle, often referred to as the "Key to Scotland," commands a strategic position overlooking the River Forth. Walk in the footsteps of Scottish royalty and visit the beautifully restored Royal Palace. The Stirling Heads, a collection of intricately carved ceiling medallions, offer a glimpse into the opulence of the Renaissance era.
Eilean Donan Castle: A Highland Icon
Nestled on a small island where three lochs meet, Eilean Donan Castle is a romantic vision of turrets and stone. With its dramatic setting and picturesque views, it's no wonder this castle is one of Scotland's most photographed landmarks. Step inside to uncover its intriguing history and admire the stunning interior.
Urquhart Castle: Legends on the Shores of Loch Ness
Overlooking the legendary Loch Ness, Urquhart Castle stands as a testament to both the beauty of the Highlands and the region's turbulent past. Explore the ruins, soak in the panoramic views of the loch, and learn about the castle's role in Scotland's struggle for independence.
Kilchurn Castle: A Ruined Majesty on Loch Awe
Set against the backdrop of Loch Awe and surrounded by the rolling hills of Argyll, Kilchurn Castle is a hauntingly beautiful ruin. The sight of this medieval fortress, partially submerged in the loch's waters, is nothing short of breathtaking. Wander through its evocative halls and imagine life in centuries past.
Inveraray Castle: A Fairytale Estate
Set amidst lush gardens on the shores of Loch Fyne, Inveraray Castle is a picture-perfect example of Scottish baronial architecture. Its opulent rooms are filled with centuries of history and treasures. Stroll through the scenic grounds and revel in the romance of this fairy tale estate.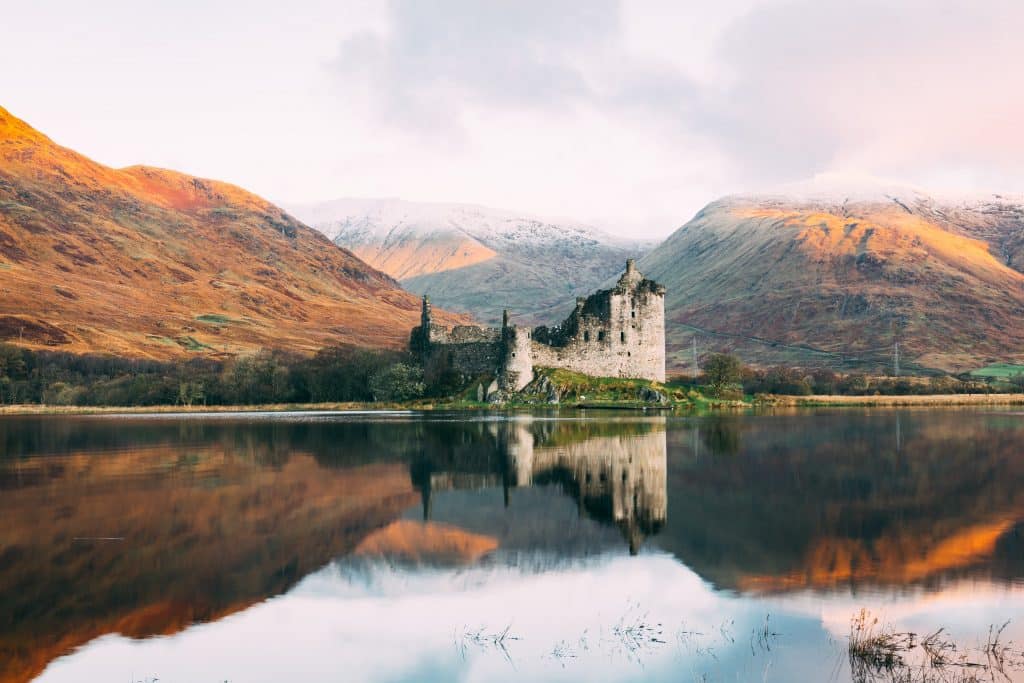 Exploring Scotland's castles and lochs is a journey through time, where every stone tells a story and every loch reflects a piece of the country's soul. Join us on this enchanting adventure and let the magic of Scotland's historic landmarks captivate your heart and imagination. Book your tour today and embark on a voyage through the centuries!
Thanks for checking out Juniper Tours' Travel blog! We hope you enjoyed your read and if you're looking for more content please check out our other blog posts! If you're looking for help planning your next travel adventure then book a FREE travel consultation with one of our Travel Specialists today!​
Schedule a Free Travel consultation today!​