Embrace the Freedom: Self-Driving Tours of Scotland and Ireland
Self-Driving Tours of Scotland and Ireland
Welcome to an adventure like no other! If you're seeking a unique and immersive travel experience, look no further than our self-driving tours of Scotland and Ireland. These picturesque lands are steeped in history, adorned with stunning landscapes, and brimming with warm hospitality. And with the independence of a self-guided tour, you can explore at your own pace, stopping wherever your heart desires.
The Road Less Traveled
Scotland: Where Legends Roam
Unleash Your Inner Highlander
As you embark on your self-driving adventure through Scotland, you'll find yourself surrounded by dramatic landscapes, from the rugged Highlands to the serene lochs. The roads meander through quaint villages and ancient castles, each with its own tale to tell. Imagine the thrill of standing amidst the ancient stones of the Callanish Standing Stones on the Isle of Lewis, or gazing at the awe-inspiring Eilean Donan Castle, perched dramatically at the meeting point of three lochs.
Whisky Trails and Culinary Delights
Savor the smoky, peaty flavors of Scotch whisky as you traverse the famous whisky regions like Speyside, Islay, and the Lowlands. Take a tour of distilleries, meeting the passionate artisans behind these age-old traditions. And don't forget to sample the local delicacies – from haggis to fresh salmon, Scotland's culinary offerings are sure to delight.
Ireland: A Tapestry of Green
Emerald Isle's Enchanting Landscapes
Ireland is a land of breathtaking beauty. The Wild Atlantic Way stretches along Ireland's western coast, offering some of the most stunning coastal views in the world. Drive along the Cliffs of Moher, feel the spray of the Atlantic on your face, and breathe in the crisp, salty air. Or venture into the serene countryside, where rolling green hills and quaint farmhouses create an idyllic scene.
Ancient Ruins and Warm Hearts
Explore the rich history of Ireland, from the ancient monastic sites like Clonmacnoise to the imposing fortresses like the Rock of Cashel. Experience the magic of Ireland's folklore and traditions by visiting lively pubs, where the locals are always eager to share stories and a pint of Guinness.
The Joys of Self-Driving
Freedom to Wander
With a self-driving tour, you're not bound by schedules or group itineraries. If you stumble upon a hidden gem, a breathtaking vista, or a charming village, you have the freedom to stop and soak it all in.
Flexibility and Spontaneity
Feel like veering off the beaten path? No problem! The open road is yours to explore. Take detours, extend your stay in a captivating locale, or even change your route on a whim. The adventure is entirely yours to shape.
Personalized Experience
Craft your own adventure tailored to your interests. Whether you're a history buff, a nature enthusiast, a foodie, or a combination of them all, you can design an itinerary that resonates with your passions.
Safety and Comfort
Our self-driving tours are carefully planned, ensuring you have access to reliable vehicles, well-maintained roads, and comfortable accommodations. Plus, with the support of our expert guides and detailed itineraries, you can navigate with confidence.
Practical Tips for Your Journey
Drive on the Left: In both Scotland and Ireland, you'll drive on the left side of the road. Take your time adjusting, and always remember to stay alert.

Weather Preparedness: Both countries are known for their unpredictable weather. Layers, waterproofs, and comfortable walking shoes are essential.

Local Etiquette: Embrace the warm hospitality by respecting local customs. A friendly "hello" and a smile go a long way!

Explore Local Cuisine: Don't miss out on trying traditional dishes and beverages. Each bite is a delicious piece of the culture.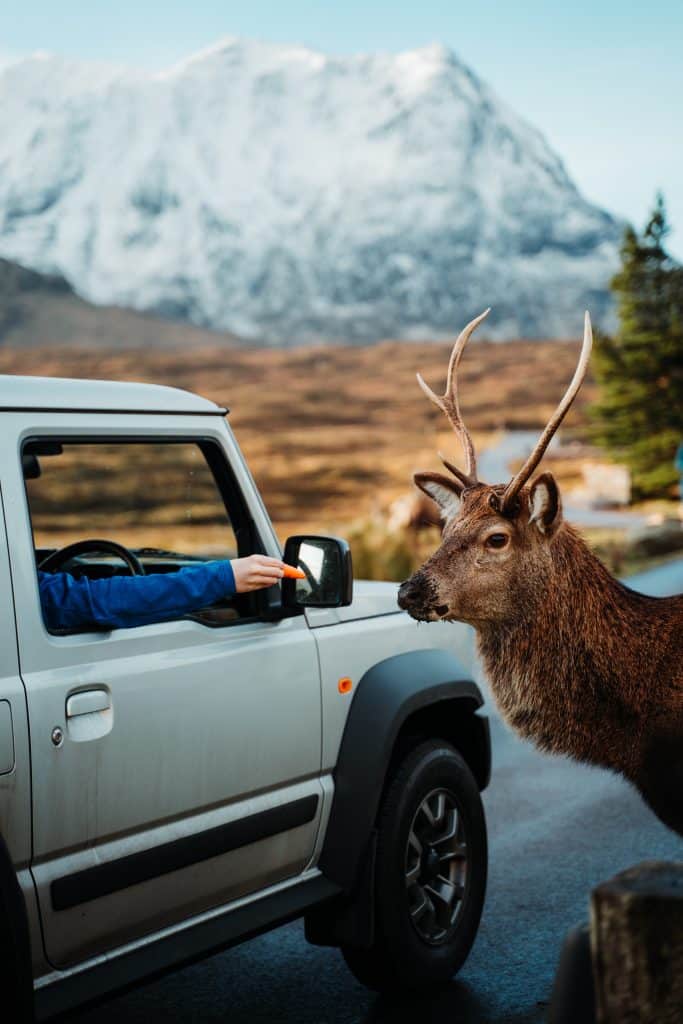 Embark on Your Own Odyssey
A self-driving tour of Scotland and Ireland promises an adventure filled with natural wonders, historical marvels, and the warmth of the people. Embrace the freedom of the open road and create memories that will last a lifetime. Contact us today to start planning your journey of a lifetime!
Thanks for checking out Juniper Tours' Travel blog! We hope you enjoyed your read and if you're looking for more content please check out our other blog posts! If you're looking for help planning your next travel adventure then book a FREE travel consultation with one of our Travel Specialists today!​
Schedule a Free Travel consultation today!​